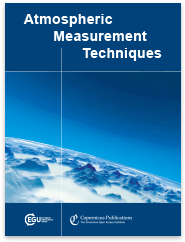 Executive editors: Thomas Wagner, Hartwig Harder, Joanna Joiner, Paolo Laj & Andreas Richter
Atmospheric Measurement Techniques (AMT) is a not-for-profit international scientific journal dedicated to the publication and discussion of advances in remote sensing, as well as in situ and laboratory measurement techniques for the constituents and properties of the Earth's atmosphere.
The main subject areas comprise the development, intercomparison, and validation of measurement instruments and techniques of data processing and information retrieval for gases, aerosols, and clouds. Papers submitted to AMT must contain atmospheric measurements, laboratory measurements relevant for atmospheric science, and/or theoretical calculations of measurements simulations with detailed error analysis including instrument simulations. The manuscript types considered for peer-reviewed publication are research articles, review articles, and commentaries.