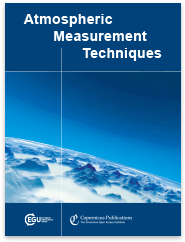 Executive editors: Thomas Wagner, Hartwig Harder, Joanna Joiner, Paolo Laj & Andreas Richter
Atmospheric Measurement Techniques (AMT) is a not-for-profit international scientific journal dedicated to the publication and discussion of advances in remote sensing, as well as in situ and laboratory measurement techniques for the constituents and properties of the Earth's atmosphere.
The main subject areas comprise the development, intercomparison, and validation of measurement instruments and techniques of data processing and information retrieval for gases, aerosols, and clouds. Papers submitted to AMT must contain atmospheric measurements, laboratory measurements relevant for atmospheric science, and/or theoretical calculations of measurements simulations with detailed error analysis including instrument simulations. The manuscript types considered for peer-reviewed publication are research articles, review articles, and commentaries.
News
29 Oct 2020
Institutional agreement with ETH Zurich now for corresponding authors
As of 1 November 2020 the direct settlement of article processing charges (APCs) between the ETH Zurich and Copernicus Publications will be valid for corresponding authors.


14 Oct 2020
Volunteer to be an EGUsphere preprint moderator!
EGU is seeking scientists who want to gain experience in the realm of scientific publishing to pre-screen manuscripts submitted to the Union's new online platform.


30 Jun 2020
Update of journal metrics
The journal metrics were updated and the current numbers are available from the metrics box on the left-hand side.