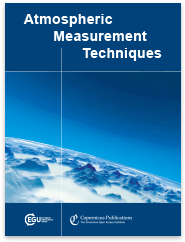 Executive editors: Thomas Wagner, Hartwig Harder, Joanna Joiner, Paolo Laj, Andreas Richter & Rebecca Washenfelder
eISSN: AMT
1867-8548
, AMTD
1867-8610
Atmospheric Measurement Techniques (AMT) is a not-for-profit international scientific journal dedicated to the publication and discussion of advances in remote sensing, as well as in situ and laboratory measurement techniques for the constituents and properties of the Earth's atmosphere.
The main subject areas comprise the development, intercomparison, and validation of measurement instruments and techniques of data processing and information retrieval for gases, aerosols, and clouds. Papers submitted to AMT must contain atmospheric measurements, laboratory measurements relevant for atmospheric science, and/or theoretical calculations of measurements simulations with detailed error analysis including instrument simulations. The manuscript types considered for peer-reviewed publication are research articles, review articles, and commentaries.












Notice on current restrictions
To show our support for Ukraine and in accordance with current European sanctions, we have introduced a range of measures relevant to our open-access publications process.
All fees for papers from authors (first, corresponding, or contact authors) affiliated to Ukrainian institutions are automatically waived, regardless of if these papers are co-authored by scientists affiliated to Russian and/or Belarusian institutions. The only exception to the waiver for Ukrainian authors will be if the corresponding or contact authors are from a Russian and/or Belarusian institution, in that case the APCs are not waived.
Due to restrictions for authors from Russian and Belarusian institutions that are necessary to comply with European sanctions, we recommend any authors from institutions in these countries to contact us on editorial@copernicus.org for more information.